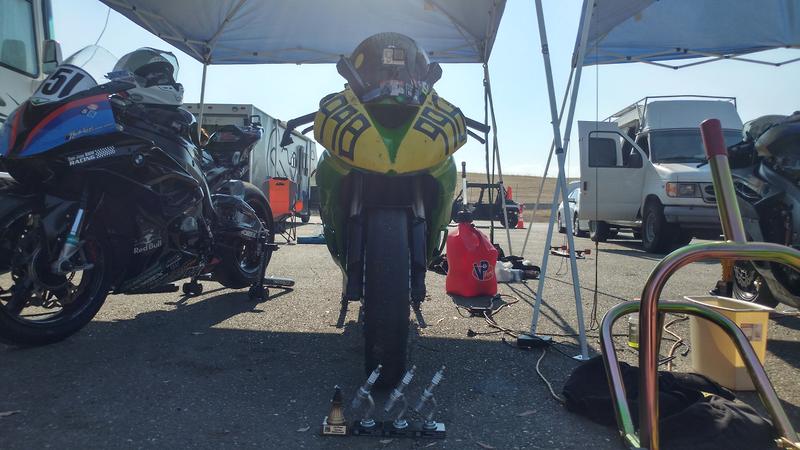 Round 3 had gone well enough, so I (once again) skipped Friday practice and leisurely rolled through the gates of Thunderhill late that night. I hadn't made any changes to the ZX6R since the previous round; I was trying to avoid making any large adjustments that would require compensation from my end (that and I'm too cheap to buy any fancy race parts). I just wanted to jump right back on the bike and continue where I'd left off last weekend. Saturday morning brought warm weather and ideal practice conditions; my sessions were spent concentrating on improving my lines and consciously trying to pay attention to my reference markers. This was met with mixed success. However, I was feeling quite a bit more consistent by the end of practice and rolled onto the Clubman Middleweight grid with a positive outlook.
clubman middleweight
Luck was on my side during the grid lottery and I ended up in pole position for the start of the Clubman Middleweight race. That number one spot didn't last long though; Hugo passed me coming out of turn 1 and I spent the rest of the race playing catch-up. I thought I had second position, but I got stuck behind a lapper on the checkered and accidentally gave #869 Luis Nunes the chance he needed to sneak in on the inside of turn 14. I couldn't be mad though; he made a clean pass and pulled on me through the 14-15 combo. I'd have to settle for third. Next time!
600 superbike
I landed fourth off the launch, but lost a position to Stu when I got a little greedy in an attempted pass on #972 Oue Vang. Eventually I ended up passing Oue, but by the time I managed to get around him Stu had already pulled a decent gap on us. I spent the rest of the race chasing his red R6 down and ended up with a fourth place finish.
formula 1
A decent start saw me score third off the line, which I kept for most of the race. Eventually #417 Jeremy Taubman reeled both Oue and I in on the front straight, snaking us on the inside of turn one and pushing us both back a position. Not too thrilled about the prospect of another fourth place finish, I pushed it a bit harder and managed to catch Oue on the inside of turn 14 on the second to last lap, gaining a third place position that I held to the end.
600 superstock
Another third place start! This time I tailed #882 Chris Stewart for the entire race, gaining on him in some areas, but losing distance in others. The race ended in the same order that it started, with Hugo in first, Chris in second, and myself in third.
750 superstock
Historically one of my fastest races, this 750SS was no exception. I latched onto Hugo for the first few laps and paced up pretty quickly, but lost a bit of ground after getting stuck behind one of the experts. I pushed to try and make up the difference, but couldn't close it in time, crossing the finish line two seconds behind his black R6. Not all was lost though; I set a new PB of 1:57.339 and took home second!